Just a quick note on how to post photos here on StrictlyHDR.
1 - You can upload your photos to a free photo-hosting website, such as:
http://www.photobucket.com
www.flickr.com
http://www.imageshack.us
or you can upload to your own website. You then get the photo location (
http://www.picture.com/samplepicture.jpg
) of your photo that you have uploaded. When you want to insert a photo in your post, simply click on the IMAGE button, the fifth button in from the left, where you write your post. After clicking on that button, simply paste the photo location (
http://www.picture.com/samplepicture.jpg
) into the window.
2- You can use the Host An Image option, which will allow you to upload a photo directly from your computer, to the server. Just click the Host An Image button, which is the sixth button from the right on the top of the post-writing window. Follow the directions from there. Please resize the file to 600 px width (for websites). Then, copy the 'image link' and paste it right into your post, wherever you want it.
See this photo below for more info: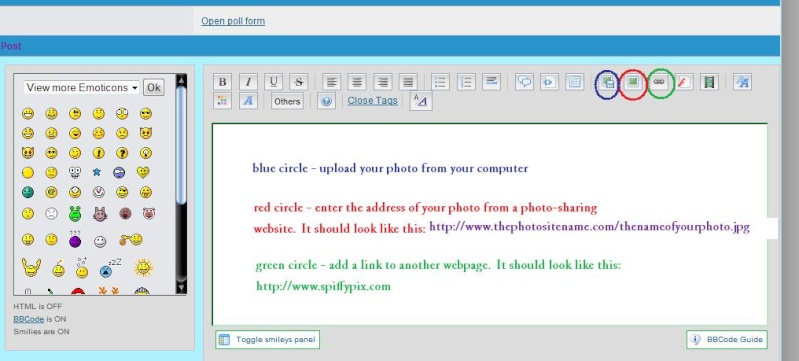 If you have any questions, don't hesitate to ask!
Melanie
http://www.spiffypix.com
Admin




Number of posts

: 170


Age

: 45


Location

: New York


Job/hobbies

: choo-choo driver


Camera Equipment

: Canon 5D Mark II, Canon Glass, Gitzo 'pod


Registration date :

2009-01-21



Melanie,

Can we post to max of 800 px on one edge and 150kb?

This will replicate another site I use and I tend to post this size to flickr for that reason.

I want to join in on this site but it will be a 'drag' to make another size pic.

Cheers,

Carl.



Number of posts

: 4


Location

: Tunbridge Wells, UK


Registration date :

2009-01-22



Hi Carl - Hmmm...Not sure. I'm still trying to work the kinks out, as we are only in our second full day of operation here.

I uploaded a wider photo on another thread, but it cut the right side of the photo off. I would have thought that a scroll bar would have introduced itself onto the post so you could at least scroll over to see the rest of the photo, but that didn't happen.
Just bear w/me and I'll find out. I would love to make the left side of the page a little smaller so that there would be more room in the text area for photos...
Melanie
Admin




Number of posts

: 170


Age

: 45


Location

: New York


Job/hobbies

: choo-choo driver


Camera Equipment

: Canon 5D Mark II, Canon Glass, Gitzo 'pod


Registration date :

2009-01-21




---
Permissions in this forum:
You
cannot
reply to topics in this forum